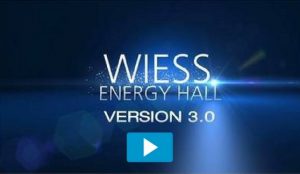 HOUSTON, TX—For more than two decades, millions and millions of visitors of all ages have immersed themselves in the science of energy by exploring the Wiess Energy Hall, one of the museum's most popular exhibitions—which is why it's been completely demolished and thrown out. But wear and tear is only part of the reason. In recent years, the science of energy has become even more highly advanced than it already was, as has the exhibition technology available to effectively tell that story. Because of the museum's commitment to exploring cutting edge science, and enhancing the visitor experience, a greatly expanded version of the Wiess Energy Hall is set to open in November 2017.
Dubbed "Wiess Energy Hall 3.0," the third iteration of this popular hall will enlarge from its previous 8,500 square feet to an expansive 30,000 square feet–almost the size of a football field. Joining the completely redesigned "classic" displays will be a bonanza of entirely new exhibits, making the new hall the most contemporary, comprehensive and technologically advanced exhibition on the science and technology of energy anywhere in the world.
Entering the new Wiess Energy Hall, visitors will step off of the elevator into a convincingly realistic environment depicting the dynamic floor of a working, 21st century offshore drilling rig populated by a motley crew of sci-fi robots—an automated "top-drive" mechanism, pipe racker and "iron roughneck." A dazzling projection of the offshore surroundings, authentic sound effects, and dramatic lighting enhance the startling realism of this—to many—almost alien scene.
Near the center of the cavernous new hall, an appropriately sized replica of a tricone rotary drill bit—fourteen feet in diameter—spins vigorously overhead. Below the massive instrument, visitors can stand over the huge hole the bit has drilled, which appears to plunge into darkness at its vanishing point far below.
Not far away, the completely reinvented Geovator, now hosted by a holographic pilot, takes visitors on a reimagined fantastic voyage plunging down through the museum floors into the earth, then back in time to the Cretaceous Period for an attack by hungry pteranodons and a meteor strike, and finally a tumultuous ascent to the surface for a surprising conclusion.
The new hall also will feature "Energy City," a 2,500-square-foot 3-D landscape representing Houston, the surrounding Gulf coastal waters, and the terrain of southeast and central Texas. This vibrant 1/150th-scale "white model" will use bleeding-edge projection mapping technology to bring to life the energy value chain with dynamic animation as the entire tableau cycles from day to night. Highlights include drilling in the Eagle Ford Shale, oil refining, trainloads of oil and coal, liquefied natural gas terminals, nuclear plants, wind farms, power plants, solar thermal energy, along with a gleaming city skyline, sprawling suburbs and streaming freeways.
No 21st century energy exhibition would be complete without addressing the changes brought about by newly accessible unconventional hydrocarbon energy. Wiess Energy Hall 3.0 will feature a sizable new gallery called "The Unconventional Hydrocarbon Revolution" that will enlighten visitors on how shale oil and shale gas have transformed the U.S. energy picture. Other parts of the exhibition will offer the chance to discover how additional "unconventional" hydrocarbon forms, including heavy oil, oil shale, coal bed methane, and even gas hydrates, are changing for the better not only the U.S. energy outlook, but also that of the entire world.
Adjacent to the Unconventional Resources Gallery, the mammoth presence of the Eagle Ford Shale Experience, a.k.a. the "EFX 3000," beckons visitors to step aboard for a wild ride out to prime Texas shale oil and gas drilling country and down into the borehole of an oil well, made real with curved projection techniques and mechanical motion effects. Reduced to microscopic size, the craft ventures into the narrow spaces of a hydraulic micro-fracture, surrounded by seemingly massive grains of proppant. Things may get a little dodgy for a bit, but the EFX makes a safe return to the museum!
A vast island in the center of the Wiess Energy Hall with a unique Möbius strip-inspired design invites guests to delve into the growing importance of renewable energy sources, as well as experimental and cutting-edge technology happening right now—and into the future. Highlights include a detailed exploration of solar energy and wind energy, two sources in which Texas is a national leader, as well as various forms of ocean energy, fuel cells, geothermal energy, and of course fusion power—which will radically transform the world energy outlook when it can be successfully exploited.
Finally, not to be missed is the "Energy Jukebox" featuring "PowerPlayz," a collection of ten inescapably catchy songs with corresponding "music videos." Inspired by the classic Schoolhouse Rock series of the 1970s, each track is performed in a unique musical style and presented with a distinctive animation technique. Topics tunefully explored by this "mini film festival" include conservation, renewable energy, biomass, hydrogen power, nuclear fission, oil, natural gas, unconventional hydrocarbons, electricity and thermonuclear fusion.
Prepare to see energy as you've never seen it before in the incomparable new Wiess Energy Hall.
Wiess Energy Hall is generously underwritten by Anadarko Petroleum Corporation, ConocoPhillips, Chevron, The Elkins Foundation, Enterprise Products Partners L.P., EOG Resources, Inc., Exxon Mobil Corporation, GeoSouthern Energy Partners GP, LLC, Halliburton Foundation, Inc., Phillips 66, Walter Oil & Gas Corporation, Aramco, The Cockrell Foundation, Constellation and Exelon Foundation, EnCap Investments L.P.,  HMW Entertainment, Claire and Joe Greenberg, William S. and Lora Jean Kilroy Foundation, LINN Energy, LyondellBasell, Marathon Oil Corporation, Kelly and Bill Montgomery, Occidental Petroleum Corporation, Simmons & Company International, Carolyn and Garry Tanner, Texas Crude Energy, LLC – K.C. Weiner & Peter J. Fluor, Total, Jennifer and Wil VanLoh, Michele and Dheeraj Verma, Oasis Petroleum, The Brown Foundation Inc., David Williams, Mr. and Mrs. Carl A. Davis and The Alan & Michelle Smith Family Fund.
The Houston Museum of Natural Science—one of the nation's most heavily attended museums—is a centerpiece of the Houston Museum District. With four floors of permanent exhibit halls, and the Wortham Giant Screen Theatre, Cockrell Butterfly Center, Burke Baker Planetarium and George Observatory and as host to world-class and ever-changing touring exhibitions, the Museum has something to delight every age group. With such diverse and extraordinary offerings, a trip to the Houston Museum of Natural Science, located at 5555 Hermann Park Drive in the heart of the Museum District, is always an adventure.
PBE creates museum exhibitions. PBE is a diverse team of designers, content specialists, writers, programmers, engineers, graphic artists, fabricators, technicians, administrators—and other hard-working go-getters, all collaborating to produce a vast variety of projects across a multitude of media. PBE's work reflects the team's diversity: whether the task is creating exhibit halls, immersive environments, digital media, or movie sets, PBE realizes a vision that meets the goals of the organizations it serves.
###