The Houston Museum of Natural Science has been a powerful force for science education in Houston for more than 100 years. We continually strive to offer the best, most groundbreaking exhibitions to the public as well as the highest-quality educational opportunities for the millions of patrons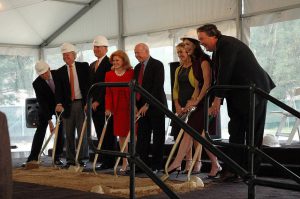 including the hundreds of thousands of students who pass through our doors each year. Thank you for your interest in our Museum, and in our mission: to enhance in individuals the knowledge of and (perhaps most importantly) the delight in the natural sciences.
Finding solutions for the myriad of challenges we face today monitoring climate change, curing ever-more resilient diseases, and ensuring access to clean drinking water, to name just a few will require a population that is highly educated in the sciences. Introducing all people, especially children, to the wonders of the natural world by captivating them with fascinating, interactive events and displays is an essential starting point.
With this in mind, we began an ambitious expansion plan in 2007 to meet the needs of a growing Houston community. Now nearing completion, our four-story, football field-sized expansion vastly increases our capacity for education. Included in our new Dan L Duncan Family Wing will be the blockbuster debut of our Hall of Paleontology, featuring a "Prehistoric Safari" filled with some of the world's most spectacular dinosaurs and enhanced with 21st century interactivity. It will tell the story of life, from the Big Bang through human evolution. And it will inspire all who wander through it to explore their world.
But that's just the beginning. The new wing has added 115,000 square feet for additional traveling exhibitions (coming soon!) as well as direly needed classroom space, which will enable us to expand our stellar educational programming, from summer camps to scout science badges. Whether you walk with dinosaurs, travel the cosmos, roam the African Serengeti, dive into a 3D giant screen film, or flutter among the butterflies, we hope you'll join us when the dramatic, new Dan L Duncan Family Wing opens to the public this summer.
From new exhibitions to science discoveries happening daily in our classrooms, you can always find the latest news about the Museum right here.
Sincerely,
Joel A. Bartsch
President
Houston Museum of Natural Science