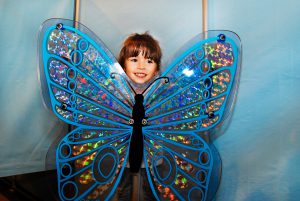 Sugar Land, TX- Transform into caterpillars and experience a life-size interactive maze, packed with amazing facts and the fun navigation of blind alleys and through ways in Amazing Butterflies , a special exhibition opening at the Houston Museum of Natural Science at Sugar Land, Feb. 20 through May 15.
Visitors experience the challenges of being a caterpillar as it morphs into a beautiful butterfly through a hands-on maze of larger-than-life leaves, grass and trees. Along the way, discover the ways caterpillars move, what they eat and how other creatures help them achieve their transformation.
" Butterflies are considered by many to be the most beautiful and interesting of insects," said Adrienne Barker, director and chief development officer of HMNS at Sugar Land. "One of the most amazing things about this insect is how they transform from caterpillars to butterflies. It is a remarkable occurrence in nature."
The adventure begins as museum goers look through eggs to see caterpillar friends climbing on leaves and beginning to feed. Learn to crawl like a caterpillar by slipping into a set of caterpillar legs and using teamwork and locomotion to sprint for the finish line. See why carpenter ants in Panama defend metalmark caterpillars from parasitic wasps and other predators, and feed a caterpillar its lunch through team games and contests.
Once the transformation from pupa to butterfly is complete, practice flapping giant butterfly wings while avoiding spider webs that lurk around every turn. The "Nectar Food Path Puzzle" and "Squeeze and Sniff" stations explain how butterflies find food by sight and smell. Also study how butterflies select a specific plant on which to lay their eggs.
Finally, mark your progress as a butterfly by stamping a souvenir garden card at eight stations before zooming out of the maze as a butterfly on "The Monarch Monorail" mini zip line.
After viewing Amazing Butterflies at HMNS at Sugar Land, head over to HMNS (Hermann Park) to experience more about the lifecycles of butterflies at the Cockrell Butterfly Center and the Brown Hall of Entomology.
Walk through a living butterfly habitat filled with exotic plants and hundreds of gorgeous live butterflies, marvel at spectacular live and preserved specimens of some of the world's largest and weirdest arthropods, and enjoy interactive games and quizzes. In the "Chrysalis Corner," witness butterflies emerge. This unique exhibit showcases the remarkable transformation of many species of butterfly. Watch them break of their chrysalis and begin to expand their wings. If you're lucky, you can watch them being released.
Amazing Butterflies is produced by Minotaur Mazes, Seattle, based on an exhibition created for the Natural History Museum in London, United Kingdom with their scientific input and interpretation. This exhibition is locally sponsored by Fort Bend Junior Service League and City of Sugar Land Tourism.
Tickets for Amazing Butterflies at HMNS Sugar Land are now on sale and may be purchased online. For more information, visit the museum's web site at www.hmns.org or call (281) 313-2227.
The Houston Museum of Natural Science at Sugar Land-On Oct. 3, 2009, a historic prison building in the residential community area of Telfair opened to the public, transformed – as the new Houston Museum of Natural Science at Sugar Land. This satellite facility of HMNS includes five permanent galleries reflecting the most popular exhibit areas of the downtown Museum location. In addition to permanent exhibitions, the 43,000 square foot building and the surrounding 5.5 acres of land that house the museum present a variety of compelling traveling exhibitions. Located at 13019 University Blvd. (at the corner of University and New Territory Blvds.), a visit to HMNS at Sugar Land is always an adventure.